Join us for the 3rd Bachata BOOST Festival in the Hague.
A festival with amazing international Bachata teachers ready to inspire, motivate, challenge and give you a Bachata BOOST!
There will be 3 different tracks plus ladystyling classes.
To ensure the quality of the BOOST concept, the tracks will be small groups for lots of personal attention.
2 DAYS
The festival will be from 3 Dec – 5 Dec 2021.
Pablo & Raquel, Truji & Gloria, Junior & Carolina, Sergio & Beige, Geno & Steffie, and many more artists will be there all weekend.
3 TRACKS
There will be 2 different level tracks: Int/Adv Track, Advanced Track. Each track will have
 max 25 couples 
and
 7 hours of BOOST workshops
. New this year is a special Dominican track on Sunday night with 3 hours only Dominican BOOST!
2 PRACTICE NIGHTS
On Saturday there will be a practice night with dresscode: BLUE & WHITE at the Bink. And on Sunday the dresscode is SPORTS & FITNESS with shows from the International artists.
PROGRAM
The whole weekend will be filled with different tracks, all at Bachata Passion in Den Haag. 
Check the program for your planning. There are no tickets at the door, so please check our Tickets site for available track & party tickets.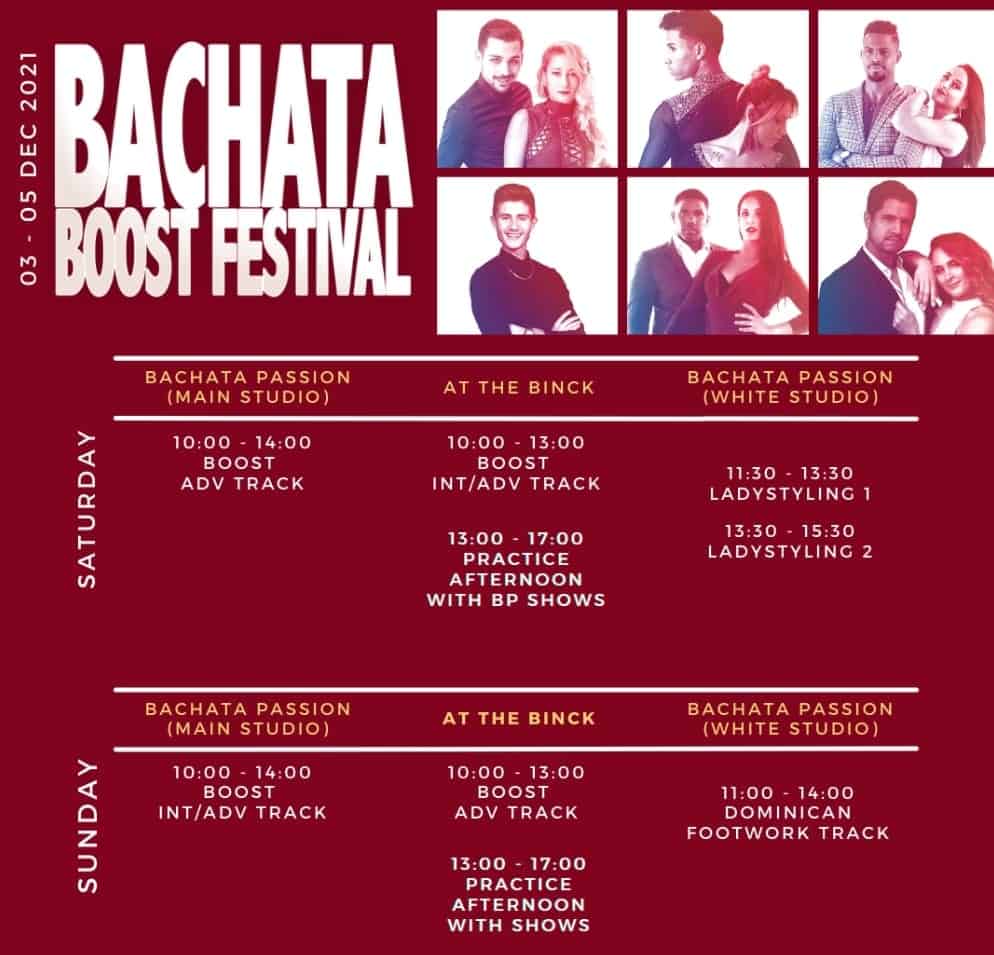 SATURDAY
09.30 – 10.00 | Registration, pick up fullpasses
10.00 – 13.00 | BOOST Int/Adv workshops
10.00 – 14.00 | BOOST Advanced workshops
11:30 – 13:30 | Ladies Track: Raquel & Julie
13:30 – 15:30 | Ladies Track: Gloria & Beige
13:00 – 17:00 | Practice afternoon With BP Shows
SUNDAY
09.30 – 10.00 | Registration, pick up fullpasses
10.00 – 14.00 | BOOST Int/Adv workshops
10.00 – 13.00 | BOOST Advanced workshops
11.00 – 14.00 | Dominican Footwork Track
13:00 – 17:00 | Practice afternoon with Shows